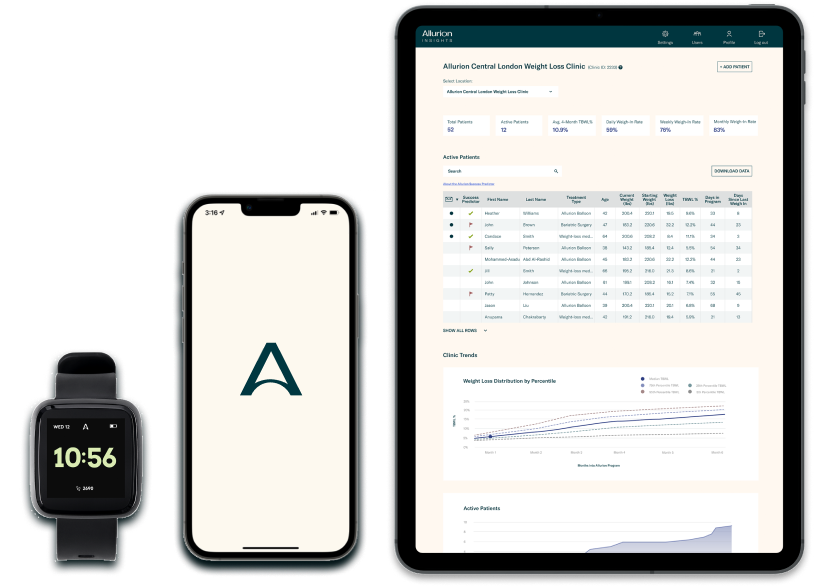 VIRTUAL CARE SUITE
Weight-loss management. Reinvented.
Real-time patient data monitoring
Powered by artificial intelligence
Video and secure messaging
Improved care team collaboration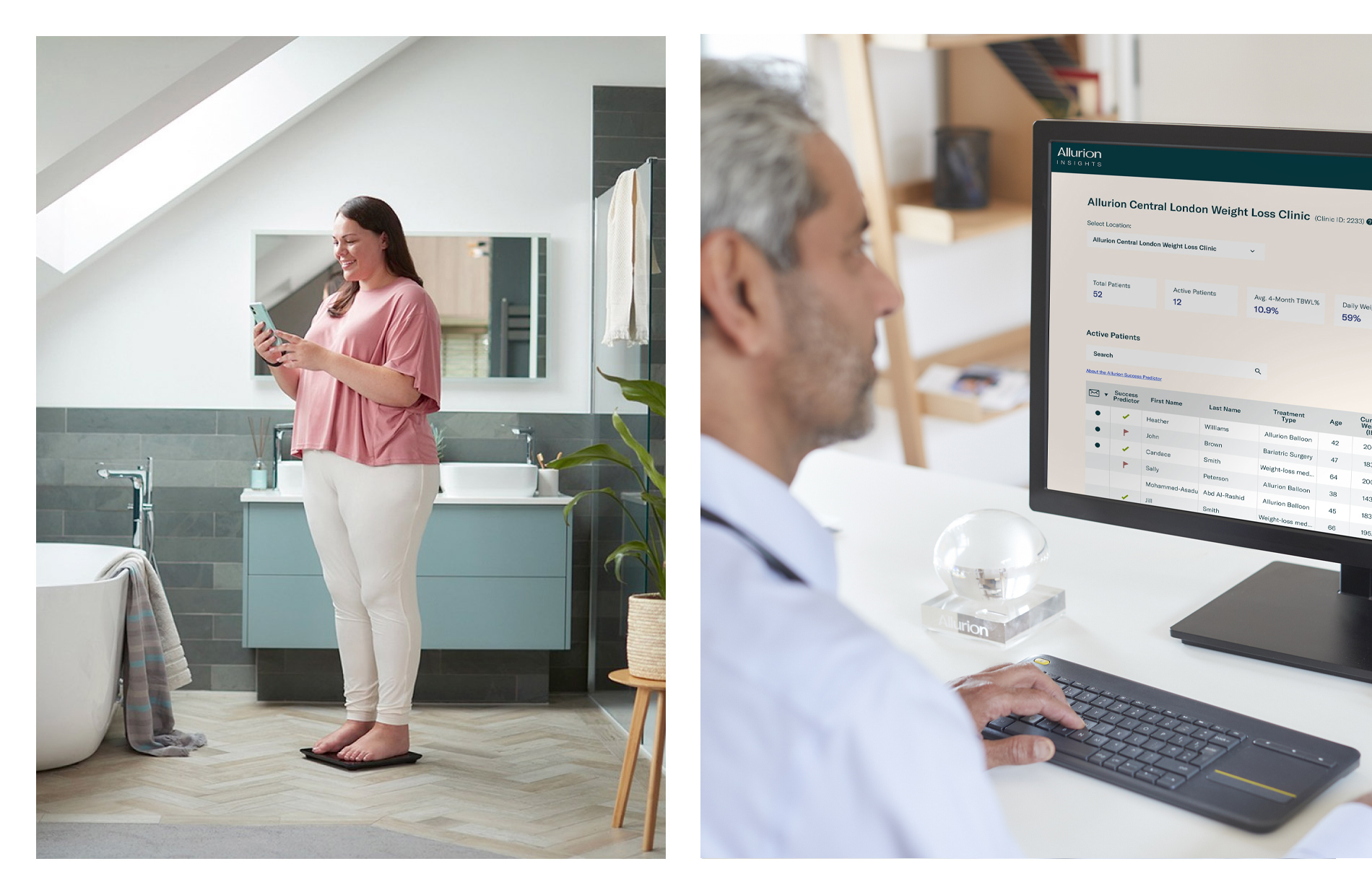 YOUR TURNKEY WEIGHT-LOSS MANAGEMENT SUITE
The Allurion Virtual Care Suite is a dynamic weight-loss management suite powered by artificial intelligence and  designed to drive all your weight-loss programs to maximize your patient outcomes and satisfaction. Remote patient monitoring, telehealth and care team collaboration – all under the one digital umbrella.
FOR EVERY WEIGHT-LOSS PATIENT
Gastric Balloon, surgical, medical or nutritional – customize, monitor and manage your patient's progress regardless of their treatment plan.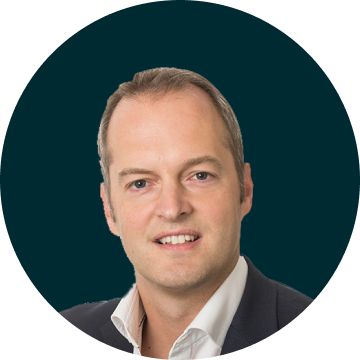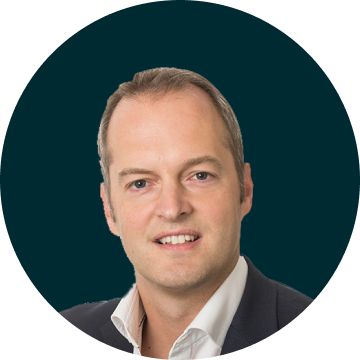 Mr. Simon Monkhouse
Award Winning Consultant Bariatric Surgeon,
Spire Gatwick
We've noticed a massive jump in patient satisfaction.
Patients are reassured by having a portal where they can access their health coach and dietitian.
VCS

FREE
Price per patient per month
No patient minimum
You get the following features:
Patient mobile app
Insights clinic portal
Remote body metric monitoring
Remote activity monitoring
Success Predictor
Allurion Digital Program Content
Clinic electronic notes
Clinic data export
Syncing with Allurion Scale
Syncing with Allurion Health Tracker
VCS +

FROM US$18.00*
Price per patient per month
Min. 20 patients per month
You get the VCS features and:
Coach Iris
My Daily Actions
Clinic team patient groups
Secure patient messaging
Video telehealth consultations
Syncing with other scale data
RECOMMENDED
VCS CUSTOM

FROM US$21.00*
Min. 250 patients per month
One-time set up fee based on customizations
You get the VCS + features and:
Custom logo in mobile app
Custom branding for mobile app
Customized treatment names
Patient data import
Priority support
Allurion Scale and Health Tracker are available for purchase at US$60.00 per device in minimum order quantity of 10 each.
*Regional prices may vary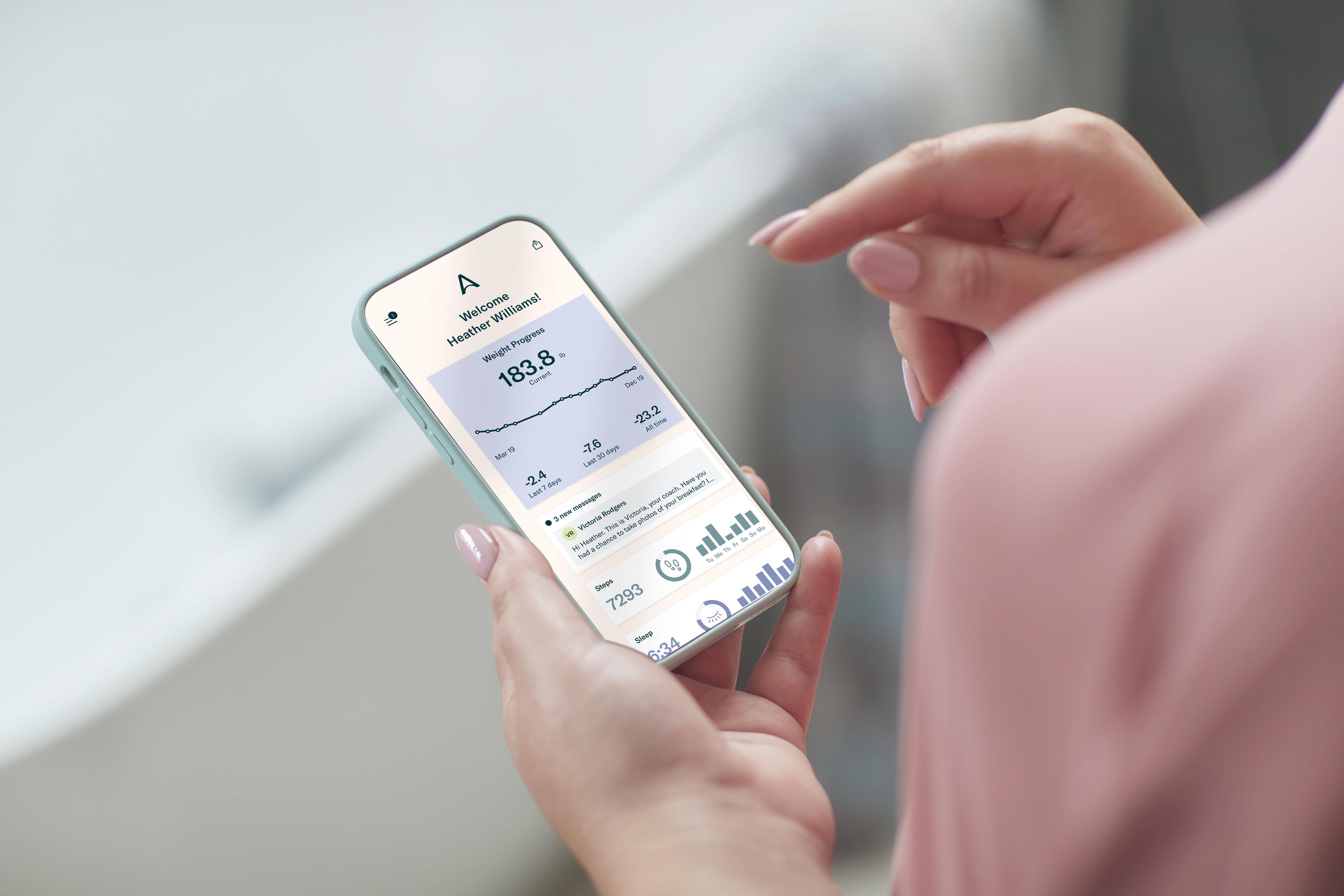 WHY CHOOSE THE ALLURION VIRTUAL CARE SUITE
Unique weight-loss expertise



With the Virtual Care Suite, Allurion is the only weight-loss medical device company that uses AI to predict weight loss. And unlike generic remote patient monitoring solutions, it has been built around weight loss, leveraging the unique experience we have acquired while helping thousands of patients to lose weight.

Comprehensive dashboard



Allurion Insights has been developed and tested with physicians to provide the most insightful, comprehensive and user-friendly experience. Clinics get advanced onboarding, training and continuous support to maximize their use of the solution.

A CUSTOMIZABLE SOLUTION



We offer a premium customization service to facilitate the integration of the Virtual Care Suite into your ecosystem. It includes the customization of the Allurion App to reflect your brand image, as well as the alignment of the treatments displayed on Allurion Insights with your offerings.

Secure and private data



The Virtual Care Suite meets GDPR standards in the EU and more than 40 other markets. It has been ISO27001-certified, demonstrating compliance with global industry standards for information security.