The Importance of Tracking Your Weight Loss Progress
Are you thinking of losing weight, or perhaps you've already taken a step in that direction and started seeing some results? Whichever your case, this article will shed some light on why it is important to track your progress. From how to start losing weight, to looking beyond the numbers on the scale, read on to understand how you can play an active role in your weight loss journey.
Starting your weight loss journey with Allurion
If you're reading this, there's a good chance you may be feeling ready to take the first step on your weight loss journey with Allurion. Losing weight isn't always easy, for a variety of reasons. However, setting yourself some realistic goals and tracking your progress can be helpful for keeping the weight off in the longer term.
We know that maintaining a healthier weight has positive health benefits and reduces your risk of many chronic diseases, including cardiovascular disease, type 2 diabetes and osteoarthritis, as well as mental health conditions such as depression. (Ref:1,2,3)
The Allurion Programme is a safe, evidence-based weight loss program that supports you to change habits from the inside out. It kick-starts your weight loss with the placement of the temporary Allurion Gastric Balloon during a 15-minute non-surgical procedure. The programme also involves support from healthcare professionals and a nutritionist as well as access to a variety of technologies to help you track your progress.
Losing weight AND keeping it off takes effort and commitment on your part. So, it's important that you're equipped with the right tools and resources to empower you to make lifelong changes.
Tracking your progress with Allurion
Do you sometimes feel like you're doing all the right things but the weight loss isn't happening? Or maybe your weight has plateau-ed for a while and you'd like to know why. Keeping track of progress is considered central to weight loss and maintenance (Ref:4,5) and involves observing and recording your behaviors (such as eating, physical activity, sleep). This can help improve your self-awareness of these behaviors. At Allurion we help you to keep track of your progress with the Allurion mobile app which connects in real-time to the health tracker we'll provide you.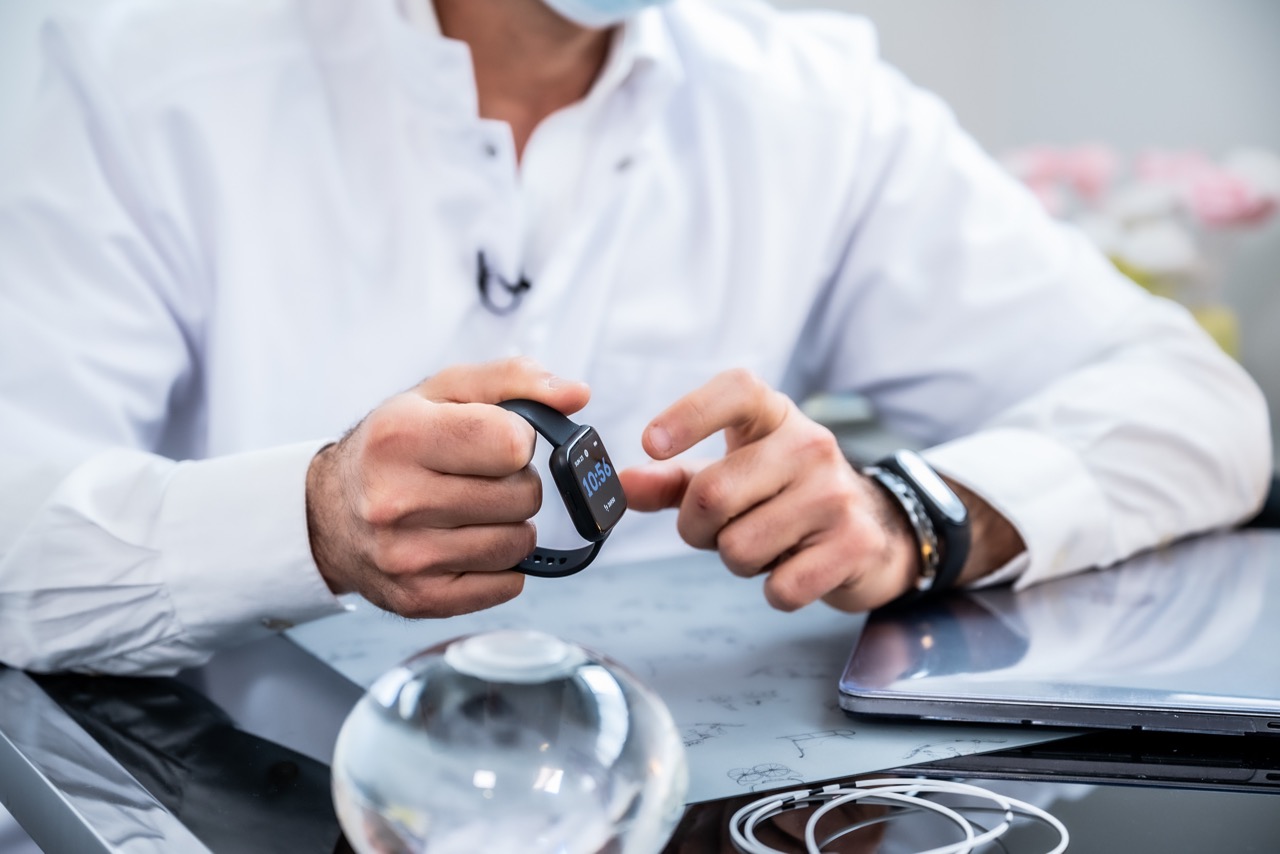 Weighing yourself regularly can increase awareness of how eating and lifestyle habits can influence your weight, as well as helping you to understand what does and doesn't work for your weight loss journey. (Ref:6,7) At Allurion, we recognize the importance of regular weighing to keep you on track with your weight loss journey and provide you with your own Allurion Connected Scale.
However, we also understand that how often you choose to weigh yourself is personal to you. We suggest trialling a couple of different approaches, then deciding which suits you best. (Ref:4,6,7) Your tracking is automatically synced to the Allurion mobile app, allowing your healthcare team to view your progress. You can check in with the Allurion mobile app regularly to get helpful content, messages from your healthcare team and feedback on your weight, activity and sleep progress.
While the weighing scales are a handy tool, they're not the only measure of success, and they shouldn't discourage you or prompt feelings of negativity. There are many other ways to measure your progress such as your self-esteem or even sleep quality, which we'll touch on further down.
It's not just about the weight
So you've been exercising a few times a week, eating better but that number on the scale is just not going down. Before you feel like all is lost, let's take a moment to put things in perspective. Weight is just one piece of the puzzle during your weight loss journey. Another important aspect to consider is body composition (a term often used by doctors and healthcare professionals). Body composition refers to the percentage of fat, bone, water and muscle in the body. It describes your weight more accurately and provides a more effective insight into your overall health than your weighing scales alone. (Ref:8)
A healthier body composition consists of less fat and more muscle mass. During your weight loss journey, it's important to maintain as much muscle mass as possible. This is because having more lean muscle is associated with better bone health, as well as increased strength and movement and reduced risk of injury. (Ref:9,10) The use of technologies can have a positive effect on healthy physical activity behaviors which is why at Allurion, we encourage you to track your progress using the Allurion Connected Scale (measuring your body composition) and health tracker (to help you monitor your activity levels).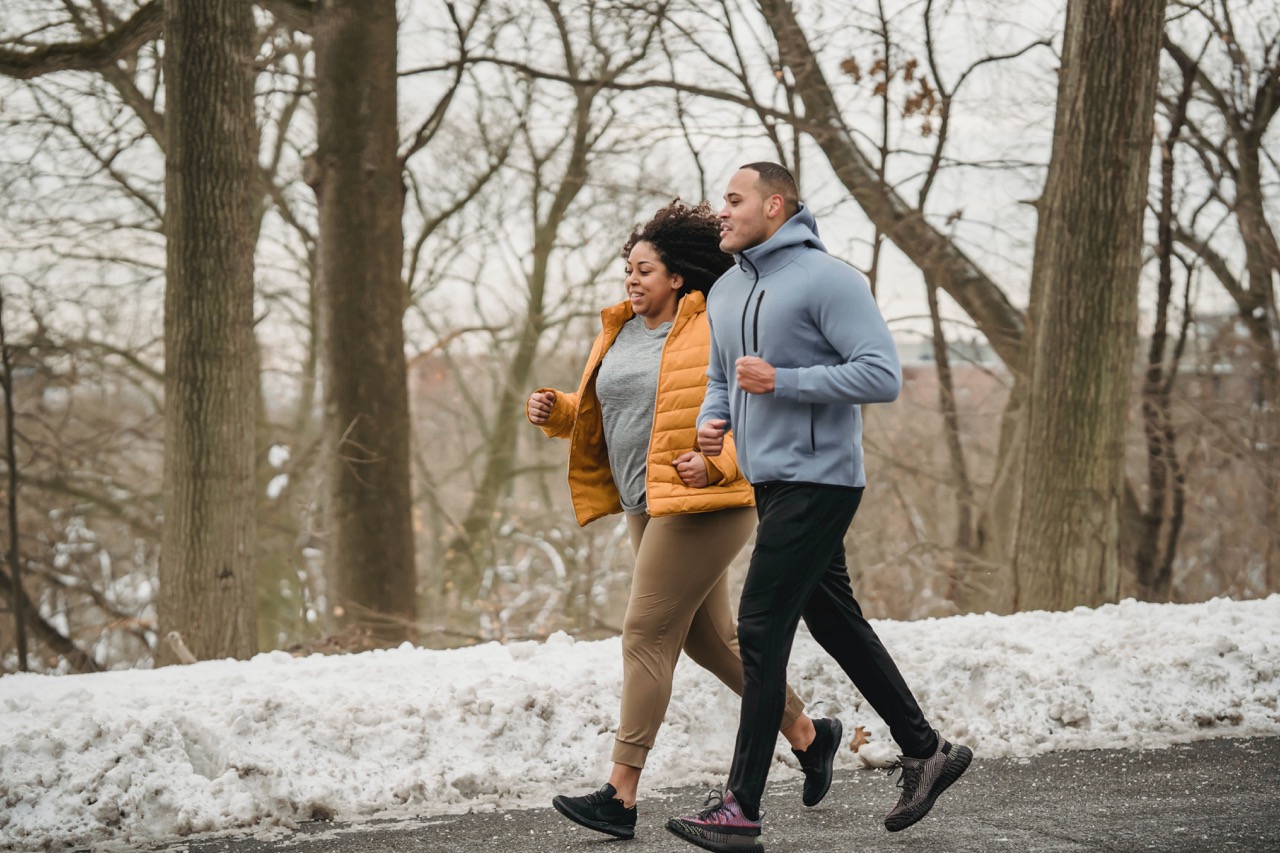 One of the best ways to maintain your muscle mass during weight loss is by staying physically active. Try to include a combination of aerobic (e.g., jogging, brisk walking or swimming) and resistance-based exercises (e.g., squats, lunges and free-weights) into your routine. (Ref:11) As part of the Allurion Programme, we ask you to use the Allurion health tracker to monitor your steps and exercise.
There are many ways to measure your progress along your weight loss journey that do not involve the weighing scale:

Increasing self-esteem
Are you noticing changes as you dress up in the morning? Perhaps a certain dress or pair of pants falls better on your body now. Celebrate that feeling! Many people who lose weight often report an improvement in their self-esteem, feelings of body positivity and confidence in their body image. (Ref:12)

Improving overall health
One of the best reasons to lose weight is doing it for your own health. Weight loss (even as little as 5-10%) has been shown to have a positive impact on health markers. This includes improvements in blood pressure and cholesterol levels, which reduces your risk of chronic diseases such as cardiovascular disease and type 2 diabetes.(Ref:13) People often report other benefits too such as feeling less tired and increased energy levels.

Getting better sleep
As you progress on your weight loss journey, think about the quality and length of your sleep. Getting sufficient sleep has been linked to helping people manage their appetite better, make better food choices and benefit their metabolism.(Ref:14,15,16) You can use the Allurion health tracker to track your deep and light phases of sleep, along with your total sleep time.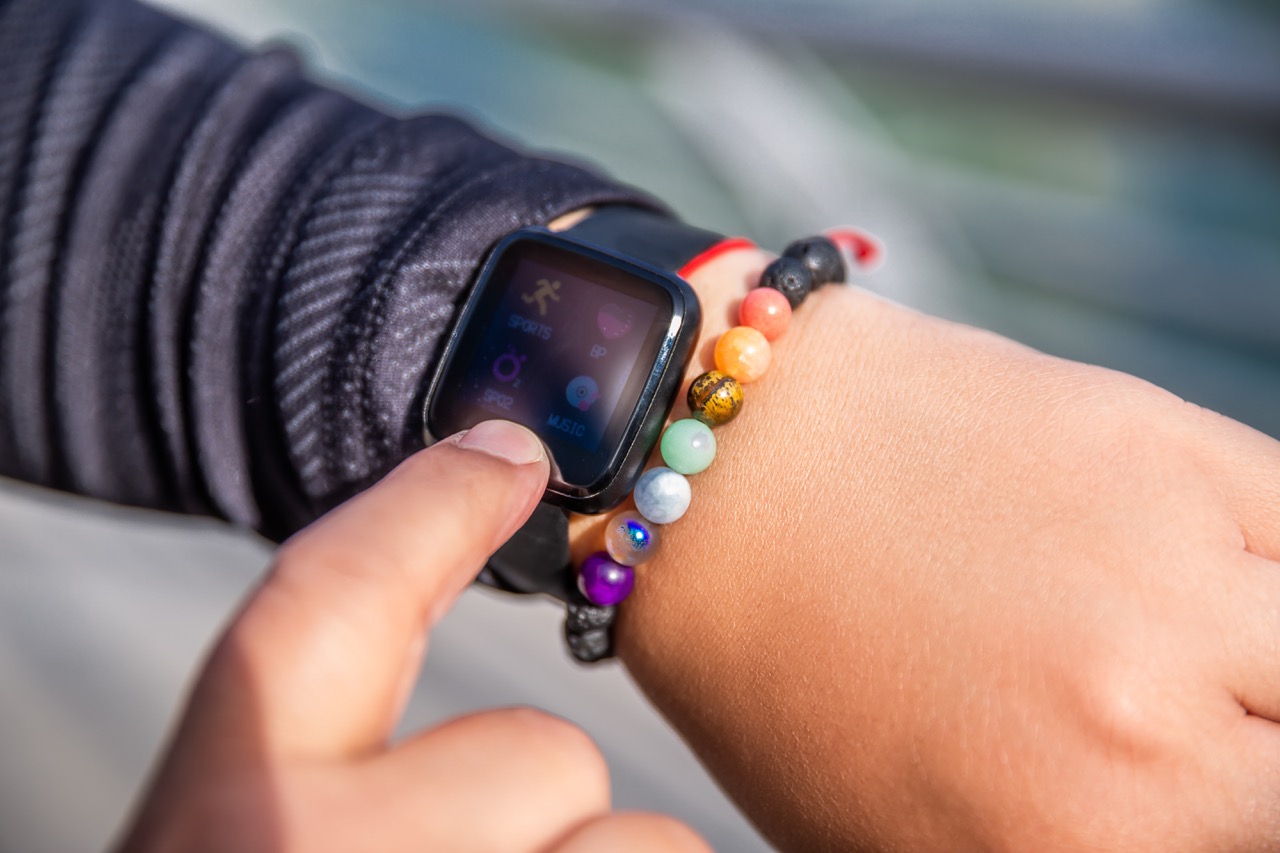 Five important reasons to track your weight loss progress
We've seen earlier that the number on the scale doesn't tell the whole story, and changes that happen deep within the body often take time to become visible. Hence, keeping track of your progress can: (Ref:17-21)

Provide a quick snapshot of progress
Tracking your weight loss progress in real-time gives you immediate feedback on how you're doing. It allows you to set small achievable goals within a specified time frame.

Help prompt motivation and focus
Tracking encourages you to continue your weight loss journey by helping you to retain a healthy sense of motivation and focus on the goals you're aiming for.

Facilitate self-awareness and mindful eating and lifestyle habits
Tracking will help you gain a deeper understanding of your eating behaviors and relationship with food. This may encourage you to eat more mindfully and develop healthy lifestyle behaviors.

Help to identify unhealthy behaviors and habits
Tracking will allow you to 'review' your current behaviors and help you see whether adjustments are required and where improvements could be made.

Give a sense of ownership
Tracking increases awareness of the personal responsibility you have for your own health. When you take personal responsibility, it offers you a sense of accomplishment and you're more likely to commit to long-term success.
How does the Allurion temporary gastric balloon work?
Tracking your progress is something that's integral to the Allurion Programme, but the real revolution that is changing the future of weight loss is the Allurion Gastric Balloon, the world's first and only temporary gastric balloon that requires no surgery, no anaesthesia and no endoscopy.
The Allurion Programme first kick-starts your weight loss with the placement of the Allurion Gastric Balloon. A capsule containing the balloon is swallowed in a 15-min procedure that is revolutionary, simple, rapid and non-invasive. Once inside your stomach, the balloon is slowly filled with fluid, helping you to lose weight in three ways:
- Delays gastric emptying: The balloon delays the emptying of the stomach by nearly 2 hours (Ref:22), leaving you feeling fuller and more satisfied for longer.
- Takes up space in the stomach: The balloon creates less room in the stomach for food, reducing the amount of food consumed.
- Stimulates vagal nerve: When we eat food, the stomach increases in size (called gastric distension). This stimulates receptors in the wall of the stomach which signals fullness (called early satiety) to the brain. In other words, having the balloon helps you lose weight while feeling full.
The Allurion Gastric Balloon doesn't involve any surgery, endoscopy or anesthesia. Clinical research shows that placement of the gastric balloon resulted in an average of 10-15% of total body weight loss after 16 weeks, and even improvements in other health markers such as LDL-cholesterol ('bad' cholesterol). (Ref:23-33) And up to 95% of weight loss can be maintained one year after the balloon exits the body.
And the journey doesn't stop there… if you have more weight to lose, a second Allurion Gastric Balloon can be placed after completing the first program.
The Allurion Programme may be offered to people that meet the following criteria:
Body mass index (BMI) of 27 or above

Are not currently pregnant

Ready to make the change and take control
To check whether you may be eligible, try our BMI calculator here.
Track your weight loss progress with technology from Allurion
Technology plays such a big role in our daily lives that the use of digital tools is an effective addition to any weight loss and maintenance journey, (Ref:34,35,36) enabling you to track your progress and encourage motivation. In addition to ongoing input from your healthcare team, there are a number of Allurion technologies which also support your weight loss journey.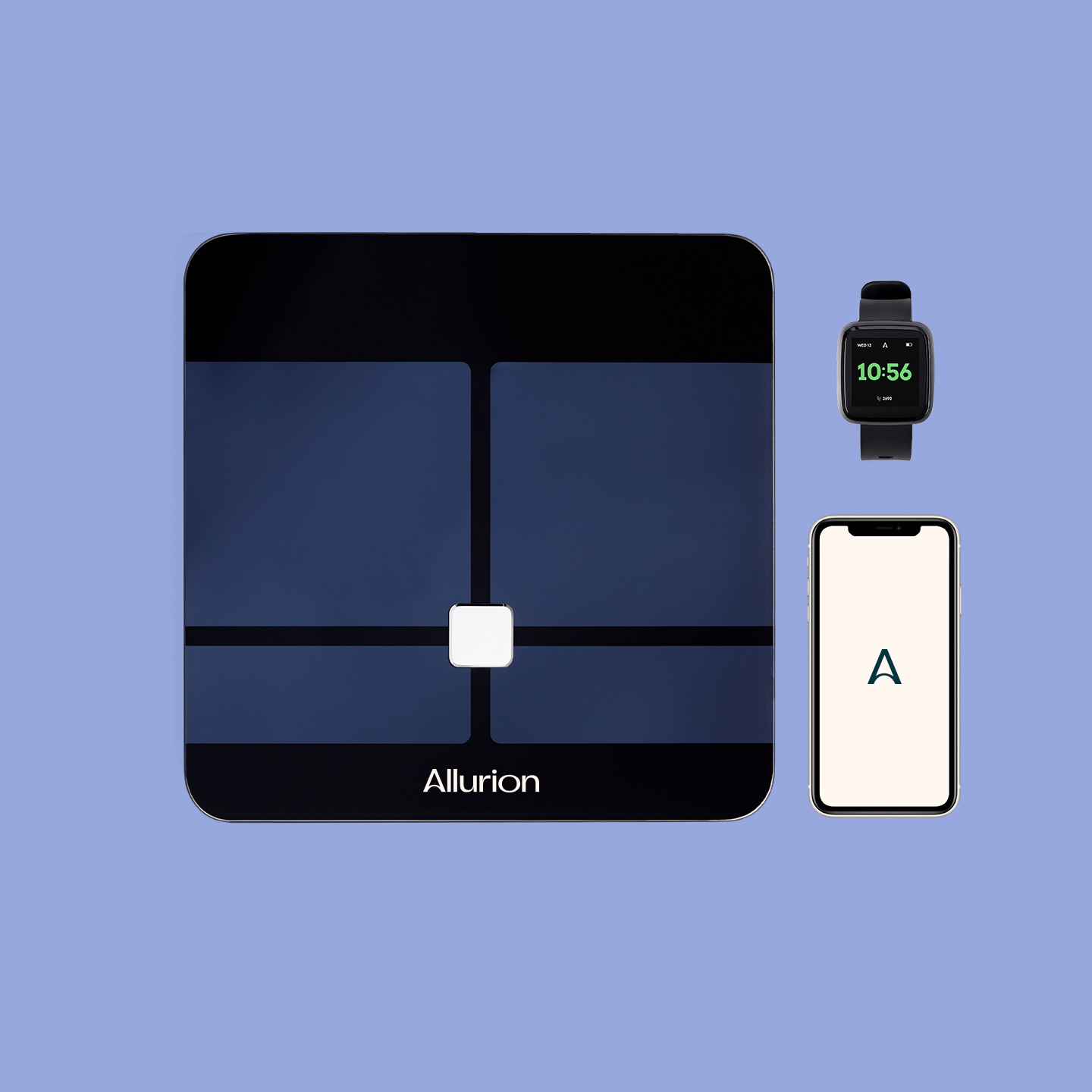 Allurion Connected Scale
The Allurion Connected Scale offers a complete weight tracking experience for those seeking effective and sustainable weight loss. It measures body weight, as well as body composition, including fat tissue (% total body weight that consists of fat tissue), visceral fat (fat that is stored around your abdomen) and muscle tissue (% body weight that consists of muscle tissue).

Allurion Health Tracker
The Allurion Health Tracker enables you to monitor other key aspects in your weight loss journey, including physical activity and sleep. All information collected is synced to the Allurion mobile app for convenience and ease of use.

Allurion Mobile App
The Allurion mobile app is a secure platform that stores your 'on-the-go' progress during your weight loss journey, allowing you to track and monitor your weight, body composition metrics, and fitness, with engagement in real-time. Your healthcare team will also have secure access to your data from the app so that they can provide additional support, guidance and advice when needed. In addition to the tracking features, you can communicate easily with your clinic team using the secure messages and video consultation features.
Book your free temporary gastric balloon consultation today
So, if you've previously tried losing weight without success, why not book your free consultation with Allurion today? Visit the Allurion website to see if you may be eligible. Please click here for further details, or use our BMI calculator.
 
References
1. Lavie CJ, Laddu D, Arena R, Ortega FB, Alpert MA, Kushner RF. Healthy Weight and Obesity Prevention. 2018;72(13):1506-1531.
2. Powell-Wiley TM, Poirier P, Burke LE, et al. Obesity and Cardiovascular Disease: A Scientific Statement From the American Heart Association. 2021;143(21):984-1010.
3. Sarwer DB, Polonsky HM. The Psychosocial Burden of Obesity. Endocrinol Metab Clin North Am. 2018;45(3):677-688.
4. Shieh C, Knisely MR, Clark D, Carpenter JS. Self-weighing in weight management interventions: A systematic review of literature. Obes Res Clin Pract. 2016;10(5):493-519.
5. Burke LE, Wang J. Self-Monitoring in Weight Loss: A Systematic Review of the Literature. Diet Assoc. 2011;111(1):92-102.
6. VanWormer JJ, French SA, Pereira MA, Welsh EM. The Impact of Regular Self-weighing on Weight Management: A Systematic Literature Review. Int J Behav Nutr Phys. 2008;5(54):1479-5868.
7. Zheng Y, Klem ML, Sereika SM, Danford CA, Ewing LJ, Burke LE. Self-weighing in weight management: A systematic literature review. Obesity. 2014;23(2):256-265.
8. Chao-Chun C, Ching-Yun H, Jen-Fang L. Effects of dietary and exercise intervention on weight loss and body composition in obese postmenopausal women: a systematic review and meta-analysis. Menopause. 2018;25(7):772-782.
9. Hong AR, Kim SW. Effects of Resistance Exercise on Bone Health. Endocrinol Metab. 2018;33(4):435-444.
10. Cava E, Yeat NC, Mittendorfer B. Preserving Healthy Muscle during Weight Loss. Adv Nutr. 2017;8(3):511-519.
11. Morres ID, Hatzigeorgiadis A, Stathi A, et al. Aerobic exercise for adult patients with major depressive disorder in mental health services: A systematic review and meta-analysis. Depress Anxiety. 2019;36(1):39-53.
12. Ivezaj V, Grilo CM. The complexity of body image following bariatric surgery: a systematic review of the literature. Obesity Reviews. 2018;19(8):1116-1140.
13. Haase CL, Lopes S, Olsen AH, Satylganova A, Schnecke V, McEwan P. Weight loss and risk reduction of obesity-related outcomes in 0.5 million people: evidence from a UK primary care database. Int J Obes. 2021;45(6):1249-1258.
14. Zhu B, Shi C, Park CG, Zhao X, Reutrakul S. Effects of sleep restriction on metabolism-related parameters in healthy adults: A comprehensive review and meta-analysis of randomized controlled trials. Sleep Medicine Reviews. 2019;45:18-30.
15. Lin J, Jiang Y, Wang G, et al. Associations of short sleep duration with appetite-regulating hormones and adipokines: A systematic review and meta-analysis. Obesity Reviews. 2020;21(11).
16. Vidafar P, Cain SW, Shechter A. Relationship between Sleep and Hedonic Appetite in Shift Workers. 2020;12(9):2835.
17. Ingels JS, Misra R, Stewart J, Lucke-Wold B, Shawley-Brzoska S. The Effect of Adherence to Dietary Tracking on Weight Loss: Using HLM to Model Weight Loss over Time. J Diabetes Res. 2017;6951495.
18. Ghelani DP, Moran LJ, Johnson C, Mousa A, Naderpoor N. Mobile Apps for Weight Management: A Review of the Latest Evidence to Inform Practice. Front Endocrinol. 2020;11(412).
19. Mateo GF, Granado-Font E, Ferre-Grau C, Montana-Carreras X. Mobile Phone Apps to Promote Weight Loss and Increase Physical Activity: A Systematic Review and Meta-Analysis. J Med Internet Res. 2015;17(11):253.
20. Dicker D, Alfadda AA, Coutinho W, et al. Patient motivation to lose weight: Importance of healthcare professional support, goals and self-efficacy. 2021;91:10-16.
21. McKee H, Ntoumanis N, Smith B. Weight maintenance: Self-regulatory factors underpinning success and failure. Psychology & Health. 2013;28(10):1207-1223.
22. Vargas EJ, Bazerbachi F, Calderon G, et al. Changes in Time of Gastric Emptying after Surgical and Endoscopic Bariatrics and Weight Loss: A Systematic Review And Meta-Analysis. Clin Gastroenterol Hepatol. 2021;18(1):57-68.
23. Lenca R, Jarallah M, Caballero A, et al. The Procedureless Elipse Gastric Balloon Program: Multicenter Experience in 1770 Consecutive Patients. Obes Surg. 2020;30(9):3354-3362.
24. Vantanasiri K, Matar R, Beran A, Jaruvongvanich V. The Efficacy and Safety of a Procedureless Gastric Balloon for Weight Loss: a Systematic Review and Meta-Analysis. Obes Surg. 2020;30(9):3341-3346.
 
25. Jamal MH, Almutairi R, Elabd R, AlSabah SK, Alqattan H, Altaweel T. The Safety and Efficacy of Procedureless Gastric Balloon: a Study Examining the Effect of Elipse Intragastric Balloon Safety, Short and Medium Term Effects on Weight Loss with 1-Year Follow-Up Post-removal. Obes Surg.2019;29(4):1236-1241.
 
26. Lenca R, Giardiello C, Scozzarro A, et al. Improving Nausea and Vomiting Post-Elipse Balloon: a Novel Single-Dose Regimen of 300 mg Netupitant/0.5 mg Palonosetron Hydrochloride. Obes Surg. 2019;29(9):2952-2956.
 
27. Ernesti I, Ienca R, Basciani S, Mariani S, Genco A. Effect of A New Swallowable Intragastric Balloon (Elipse™) on Weight Loss and Metabolic Syndrome. J Obes Nutr Disord. 2018;3(1).
 
28. Al-Subaie S, Khalifa S, Buhaimed W, Al-Rashidi.A prospective pilot study of the efficacy and safety of Elipse intragastric balloon: A single-center, single-surgeon experience. Int J Surg. 2017;48:16-22.
 
29. Genco A, Ernesti I, Lenca R, et al. Safety and Efficacy of a New Swallowable Intragastric Balloon Not Needing Endoscopy: Early Italian Experience. Obes Surg. 2018;28(2):405-409.
 
30. Raftopoulos I, Giannakou A. The Elipse Balloon, a swallowable gastric balloon for weight loss not requiring sedation, anesthesia or endoscopy: a pilot study with 12-month outcomes. Surg Obes Relat Dis. 2017;13(7):1174-1182.
 
31. Alsabah S, Haddad EA, Ekrouf S, Almulla A, Al-Subaie S, Kendari MA. The safety and efficacy of the procedureless intragastric balloon. Surg Obes Relat Dis. 2018;14(3):311-317.
 
32. Machytka E, Gaur S, Chuttani R, et al. Elipse, the first procedureless gastric balloon for weight loss: a prospective, observational, open-label, multicenter study. 2017;49(2):154-160.
 
33. Ramai D, Singh J, Mohan BP, et al. Influence of the Elipse Intragastric Balloon on Obesity and Metabolic Profile: A Systematic Review and Meta-Analysis. J Clin Gastroenterol. 2021;55(10):836-841.
 
34. Holmes WS, Moorhead SA, Coates VE, Bond RR, Zheng H. Impact of digital technologies for communicating messages on weight loss maintenance: a systematic literature review. Eur J Public Health. 2019;29(2):320-328.
 
35. Pellegrini CA, Pfammatter AF, Conroy DE, Spring B. Smartphone applications to support weight loss: current perspectives. Adv Health Care Technol. 2016;1:13-22.
 
36. Yen H, Chui H. The effectiveness of wearable technologies as physical activity interventions in weight control: A systematic review and meta-analysis of randomized controlled trials. Obesity Reviews. 2019;20(10):1485-1493.