Allurion
VIRTUAL CARE SUITE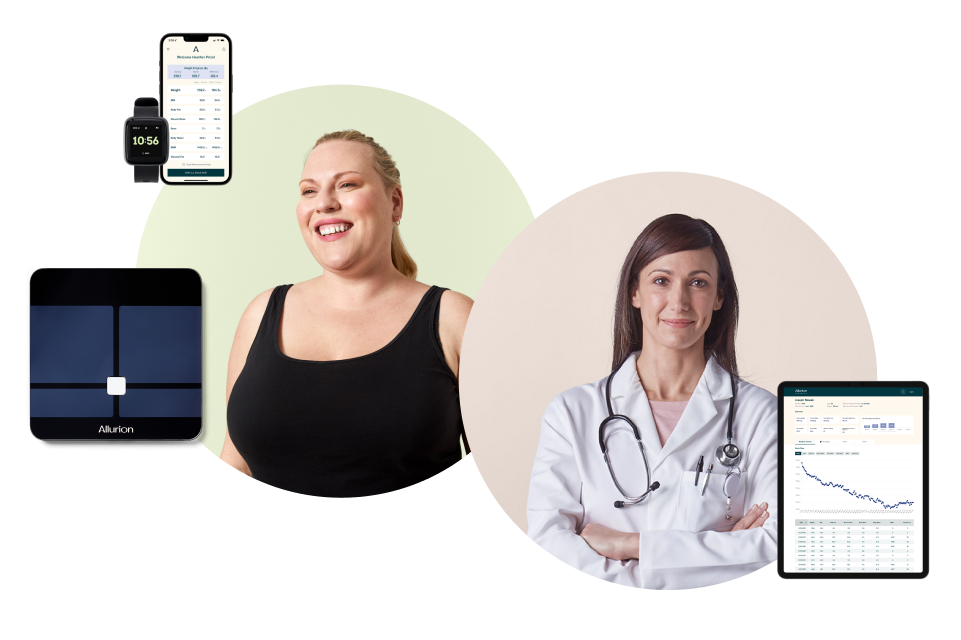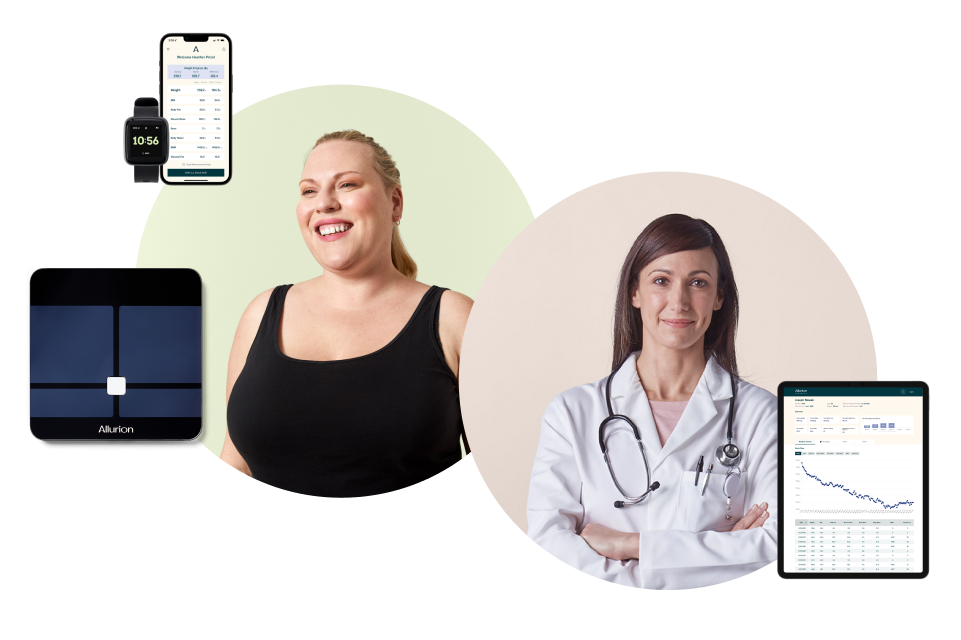 VIRTUAL CARE SUITE
Weight-loss management. Reinvented.
Real-time patient data monitoring
Secure end-to-end patient management
Video and secure messaging
Improved care team collaboration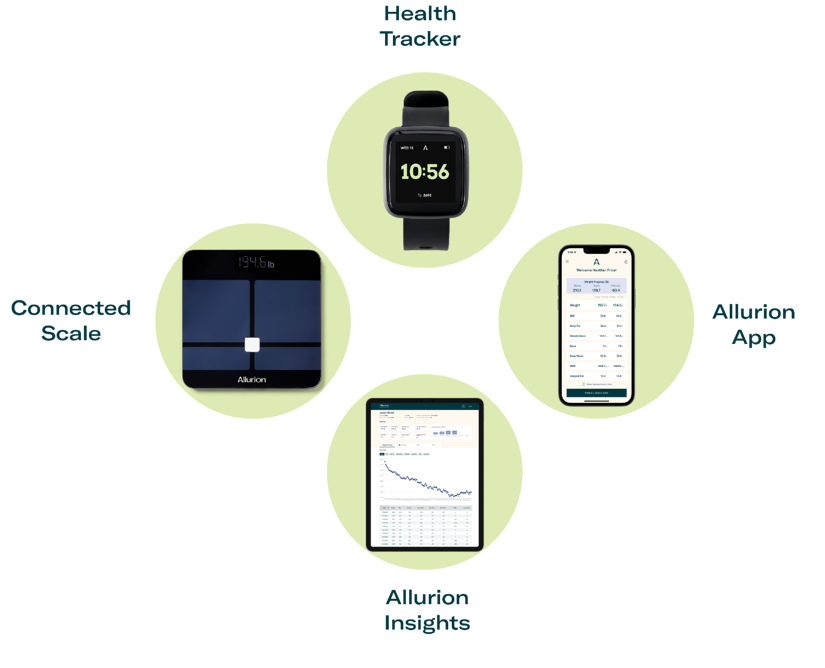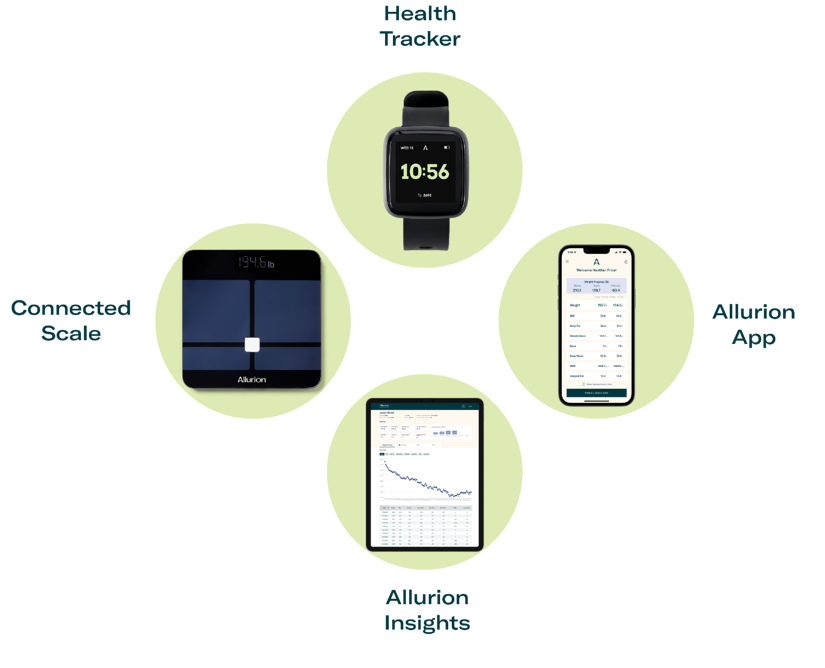 A WEIGHT-LOSS DEDICATED REMOTE PATIENT MONITORING
The Allurion Virtual Care Suite is your one-stop weight-loss management suite.
It combines all the tools and devices you need to help your patients maximize their weight loss. Remote patient monitoring, telehealth and care team collaboration – all under the one digital umbrella.
"We've noticed a massive jump in patient satisfaction.
Patients are reassured by having a portal where they can access their health coach and dietitian."
DR. SIMON MONKHOUSE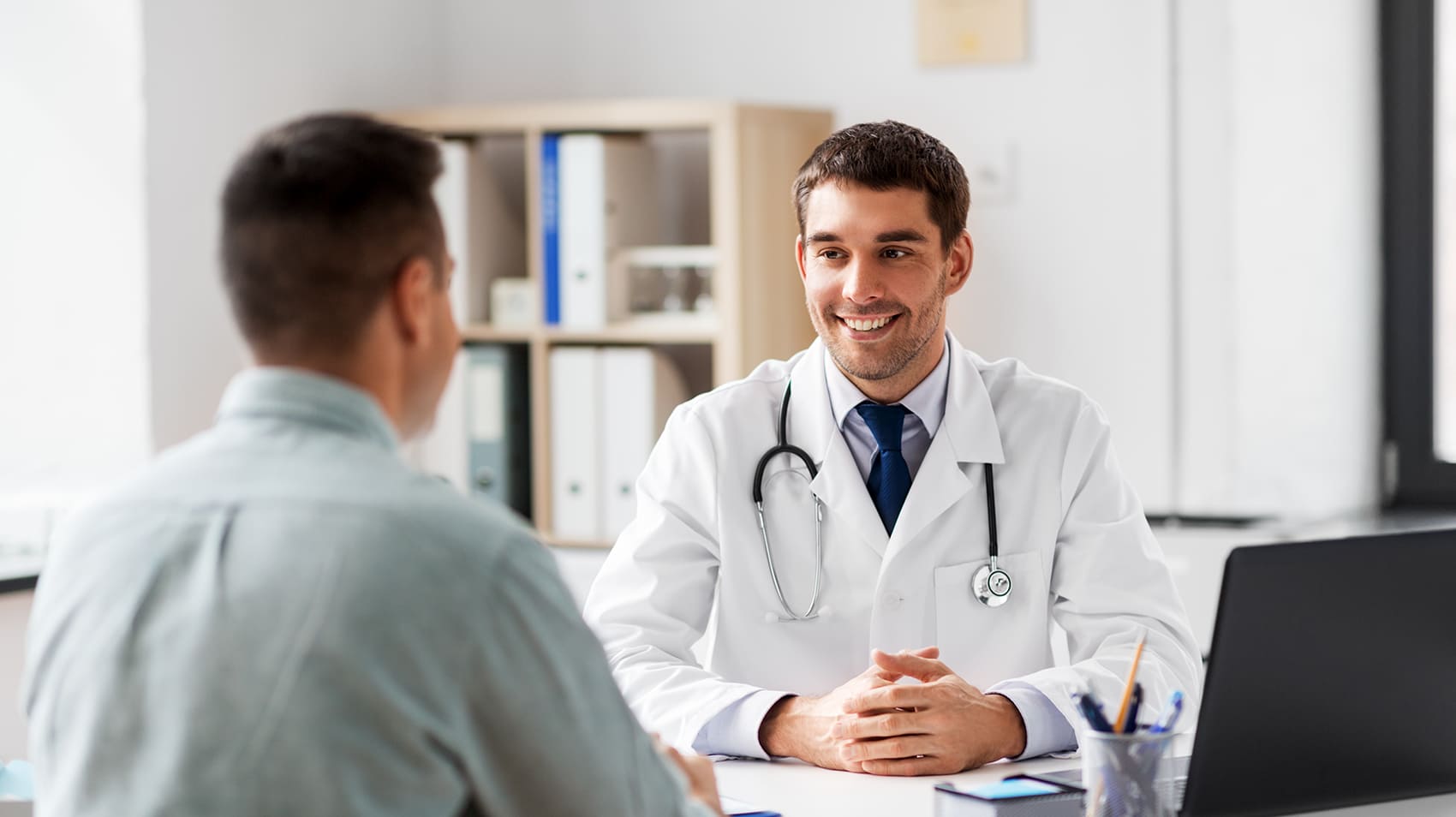 HOW YOUR PATIENTS BENEFIT
Use the Virtual Care Suite to give your patients access to the digital tools they need to effectively manage their weight loss and track their success: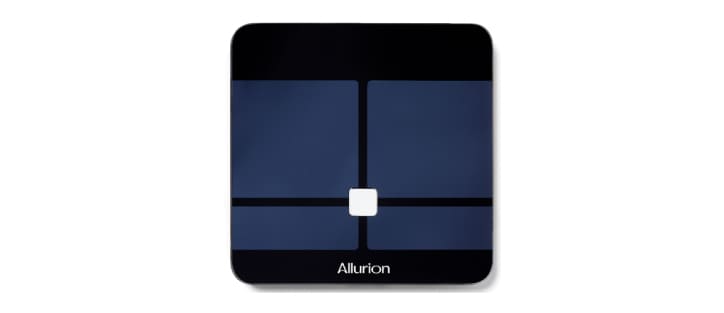 1- Connected Scale
The Connected Scale monitors weight and body composition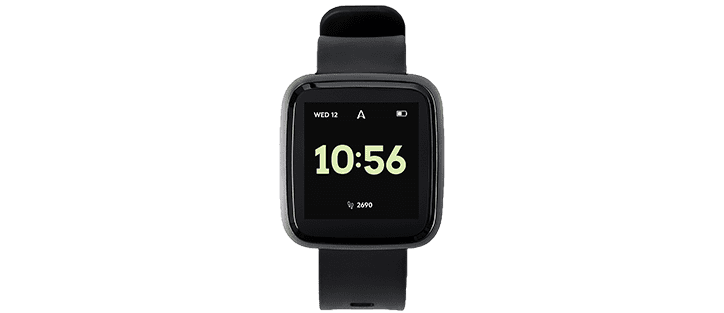 2- Health Tracker
The Health Tracker measures steps, exercise and sleep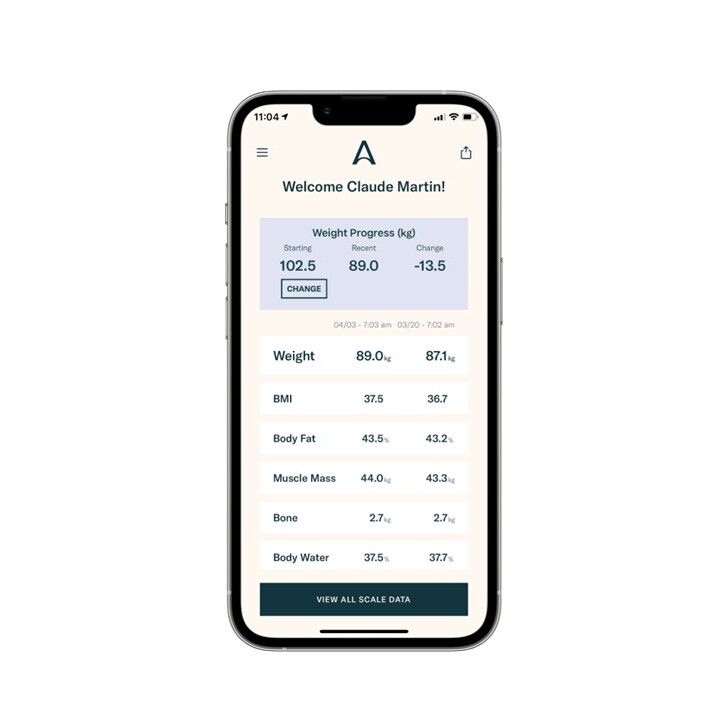 3- Allurion App
All data syncs wirelessly to the Allurion App, which securely connects patients and providers via messaging and video telehealth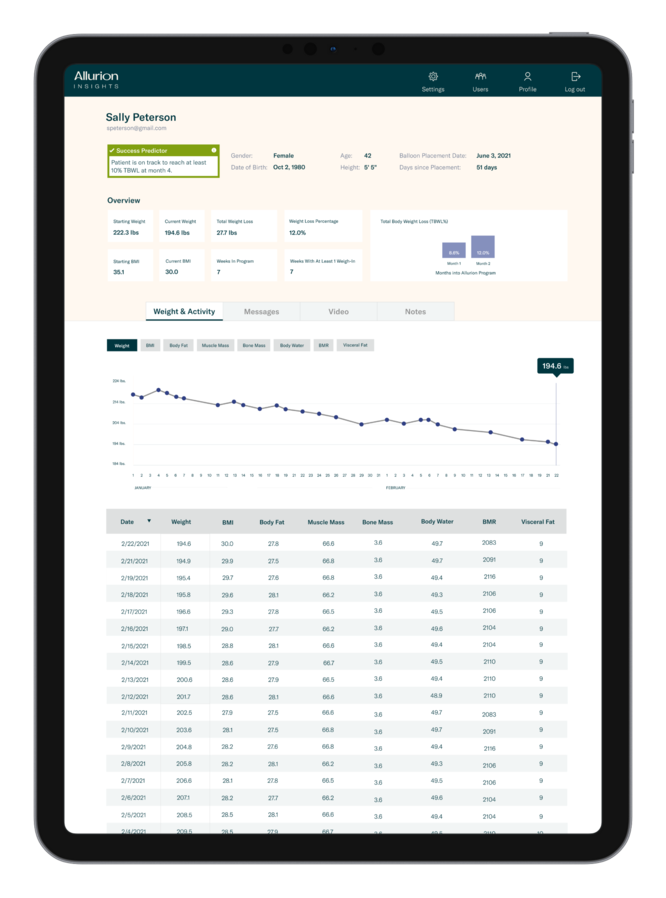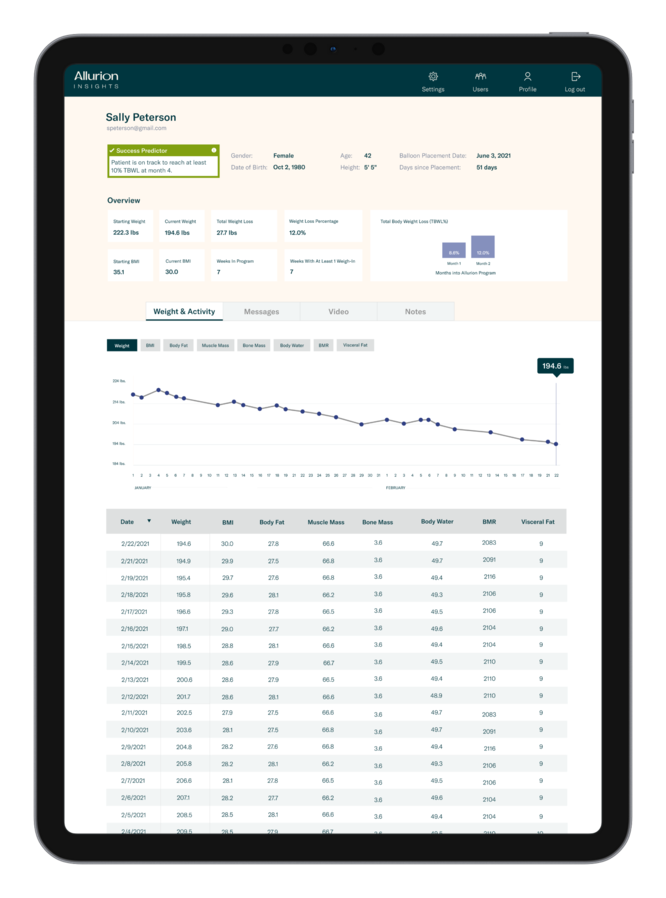 Your clinic can benefit from having access to Allurion Insights, a comprehensive and secure web application:
Real-time access to patient data
1:1 video telehealth to patients via the app.
Secure text messaging with patients.
Use provider notes to make care team coordination quick and easy.
Proactively identify at-risk patients for timely intervention.
Monitor your clinic-level performance and engagement.
MAXIMIZE YOUR CLINIC'S PERFORMANCE
REMOTE PATIENT MONITORING
Objective, reliable and real-time data to base your decisions on.
Help patients stay on track and achieve better results.
Better patient outcomes
SECURE PATIENT COMMUNICATION
Easy to engage with patients
Build trust with personalized care.
Patients are more engaged in the process for longer.
More engaged and satisfied patients
CARE TEAM COLLABORATION
One centralized platform to view & share appointments & follow-ups.
Streamline your workflow and see more patients.
Optimized clinic time and improved clinic performance
WHY CHOOSE THE ALLURION VIRTUAL CARE SUITE
Unique weight-loss expertise
Unlike generic remote patient monitoring solutions, the Allurion Virtual Care Suite has been built around weight loss, leveraging the unique experience we have acquired while helping thousands of patients to lose weight.
Comprehensive dashboard
Allurion Insights has been developed and tested with physicians to provide the most insightful, comprehensive and user-friendly experience. Clinics get advanced onboarding, training and continuous support to maximize their use of the solution.
Real-time patient data
Patient data is available on Allurion Insights as soon as the patient has recorded their measurements. This provides objective real-time data to help build a more accurate and tailored follow-up program.
Secure and private data
The Virtual Care Suite meets GDPR standards in the EU and more than 40 other markets. It has been ISO27001-certified, demonstrating compliance with global industry standards for information security.
June 28th, 2022
June 28th, 2022
Allurion Unveils Major Update to the Virtual Care Suite