Allurion Presents Coach Iris: 24/7 AI Weight Loss Guide.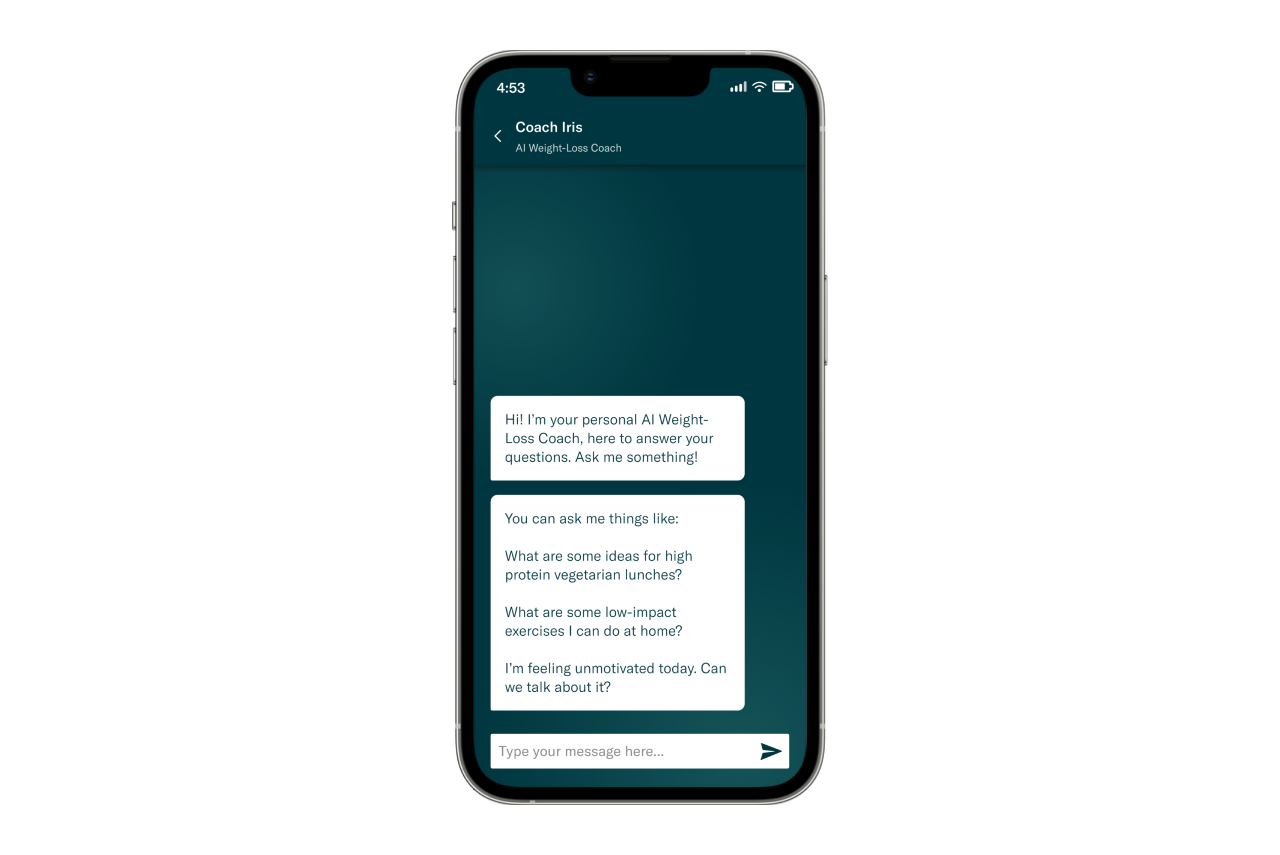 Allurion Introduces Coach Iris: A 24/7 Generative AI-Powered Weight Loss Coach
Powered by GPT and Fine-Tuned to Allurion's Proprietary Behavior Change Program
Allurion invites attendees of the IFSO conference in Naples, Italy (August 30 to September 1, 2023) to experience Coach Iris at booth #509-510
NATICK, Mass. -- August 29, 2023 – Allurion Technologies, Inc. (NYSE: ALUR), a company dedicated to ending obesity, has today unveiled Coach Iris, a new generative AI-powered health coach designed to enhance outcomes within the Allurion Program and maximize clinic efficiency. Built in close collaboration with leading global weight-management professionals and Allurion's behavioral scientists, Coach Iris is intended to instantly expand the care team by providing always-on support, education, and motivation.
Allurion is committed to offering new digital tools and services to enhance weight loss results and satisfaction. Delivered via the Allurion App, the company believes that Coach Iris can serve as a powerful complement to care providers, empowering patients with 24/7 access to personalized support and guidance. Upon launching the Allurion App, patients are free to initiate a conversation with Coach Iris on a broad range of health and weight-loss topics. For example, patients can ask for tailored meal plans, recipes, exercise routines, stress management techniques, and motivational insights.
Allurion prioritizes accuracy and safety for a diverse set of consumers. "By designing Coach Iris to solve the specific needs of consumers seeking weight loss, we anticipate increasing the accuracy of Coach Iris by reducing the risks of potentially inaccurate edge cases, and also ensuring that appropriate safety and review mechanisms are in place," said Jeff Feldgoise, Allurion's Senior Vice President of Digital.
In addition to responding to patient requests, Coach Iris is designed to proactively reach out to ensure patients remain actively engaged in their weight loss program, leading to longer-lasting commitment and more successful outcomes. Allurion believes Coach Iris will become a trusted companion, available for patients whenever they need assistance, motivation, or simply an empathetic ear, so they never feel alone on their weight loss journey.
"Our digital tools are underpinned by our unique and proprietary dataset collected across 80 countries. We are fully committed to giving our clinics the best AI weight-management tools to strengthen their care delivery and propel the Allurion Program to new levels of effectiveness," said Dr. Shantanu Gaur, Founder and Chief Executive Officer of Allurion. "Coach Iris is an example of us bringing this vision to life, improving the consumer experience, while simultaneously aiming to make our healthcare professionals more productive and capable of delivering exceptional care to a much larger number of patients."
Allurion invites attendees of the International Federation for the Surgery of Obesity and Metabolic Disorders (IFSO) conference in Naples, Italy, to experience Coach Iris firsthand at booth #509-510. They will be able to witness how this powerful AI-powered health coach improves the patient care experience within the Allurion Program, with the aim of driving unprecedented patient success.
Coach Iris will be available at no additional charge by October 2023 for clinics that subscribe to the Allurion Virtual Care Suite VCS+ or VCS Custom plans.
About Allurion
Allurion is dedicated to ending obesity. The Allurion Program is a weight-loss platform that combines the Allurion Gastric Balloon, the world's first and only swallowable, procedure-less gastric balloon for weight loss, the Allurion Virtual Care Suite, including the Allurion Mobile App for consumers, Allurion Insights for healthcare providers featuring the Iris AI Platform, and the Allurion Connected Scale and Health Tracker devices. The Allurion Virtual Care Suite is also available to providers separately from the Allurion Program to help customize, monitor and manage weight-loss therapy for patients regardless of their treatment plan: gastric balloon, surgical, medical or nutritional.  The Allurion Gastric Balloon is an investigational device in the United States.
For more information about Allurion and the Allurion Virtual Care Suite, please visit www.allurion.com.
Allurion is a trademark of Allurion Technologies, Inc. in the United States and countries around the world.
Forward-Looking Statements
This press release may contain certain forward-looking statements within the meaning of the federal securities laws.  These forward-looking statements generally are identified by the words "believe," "project," "expect," "anticipate," "estimate," "intend," "strategy," "future," "opportunity," "plan," "may," "should," "will," "would," "will be," "will continue," "will likely result," and similar expressions and include statements regarding Allurion's expectations for, and market acceptance of, the Allurion Program. They reflect the current beliefs and assumptions of Allurion's management based on information currently available to them. Forward-looking statements are predictions, projections and other statements about future events that are based on current expectations and assumptions and, as a result, are subject to risks and uncertainties.  Many factors could cause actual future results or developments to differ materially from the forward-looking statements in this communication, including but not limited to (i) the ability of Allurion to obtain regulatory approval for and successfully commercialize the Allurion Program, (ii) the results of clinical data from its studies, (iii) the evolution of the markets in which Allurion competes, (iv) the ability of Allurion to defend its intellectual property and satisfy regulatory requirements, (v) the impact of the COVID-19 pandemic on Allurion's business, (vi) Allurion's expectations regarding its market opportunities and (vii) the risk of downturns and a changing regulatory landscape in the highly competitive industry in which Allurion operates.  The foregoing list of factors is not exhaustive.  You should carefully consider the foregoing factors and the other risks and uncertainties described in the "Risk Factors" section of the proxy statement/prospectus contained in Allurion's Registration Statement on Form S-4 (333-271862), the company's Form 8-K filed on August 7, 2023 (as amended), and other documents filed by Allurion from time to time with the U.S. Securities and Exchange Commission. These filings identify and address other important risks and uncertainties that could cause actual events and results to differ materially from those contained in the forward-looking statements. Forward-looking statements speak only as of the date they are made.  Readers are cautioned not to put undue reliance on forward-looking statements, and Allurion assumes no obligation and does not intend to update or revise these forward-looking statements, whether as a result of new information, future events, or otherwise.  Allurion does not give any assurance that it will achieve its expectations.
Media Contacts
Global:
Cedric Damour
PR Manager
+33 7 84 21 02 20  
cdamour@allurion.com
US:
Erik Milster
SeriesM PR
508.740.6125
emilster@seriesmpr.com
18 September, 23
Allurion Featured at the 2023 International Bariatric Club
Oxford University World Congress

Congress...
28 August, 23
Allurion Announces Acceptance of Nine Scientific Presentations at IFSO 2023 World Congress
New data...
01 August, 23
Allurion Debuts as a Publicly Traded Company on the NYSE
Allurion to commence trading on August 2, 2023 on...
25 July, 23
Allurion Announces New Additions to Board of Directors and Executive Leadership Team
Serial healthcare...
28 June, 23
Allurion Presents New Data at the 2023 ASMBS Annual Meeting Demonstrating Mean Weight Reduction of Over 20%
...
22 June, 23
Allurion Announces Collaboration Agreement with Medtronic to Expand Access to AI-Powered Weight Loss Program
...
30 May, 23
Allurion to Participate in the Jefferies Healthcare Conference
NATICK, Mass. -- May 30, 2023 – Allurion, a...
16 May, 23
First Multi-Center Study Combining the Allurion Program with GLP-1 Therapy Presented at the European Congress...
15 May, 23
Allurion Presents Findings from Landmark Study Evaluating Fully Remote Weight Loss Coaching Program
 
Prop...
12 April, 23
Allurion Announces Premium Tiers for the Virtual Care Suite and Launch of Proprietary "My Daily Action" Bundle...
05 April, 23
Allurion Announces Appointment of MIT Distinguished Professor for AI and Health and MacArthur "Genius" Fellow
...
01 March, 23
Allurion named "Champion Partner" of the World Obesity Federation and official sponsor of World Obesity Day...
09 February, 23
Allurion, a Global Leader in Weight Loss Technology, to Become Publicly Listed Through Business Combination...
15 December, 22
Allurion Technologies' training awarded World Obesity Federation SCOPE accreditation 
16 November, 22
Company reports 444% revenue growth from 2018 to 2021 and has also been named as one of MedTech Outlook's Top...
27 October, 22
The world's first and only procedureless gastric balloon receives approval from Brazilian Health...
19 October, 22
New Delhi, 06 Sep 2022:

Allurion, a company dedicated to ending obesity, has launched the Allurion...
19 October, 22
Company launches the Allurion Iris™ Artificial Intelligence Platform and introduces Success Predictor, a...
19 October, 22
Company announces approval of the Allurion Balloon in Canada, Mexico, Australia, and India where approximately...
04 October, 22
NATICK, Mass. - Allurion, a company dedicated to ending obesity, today announced results from eight key...