Allurion Showcases 20% Weight Reduction Data at 2023 ASMBS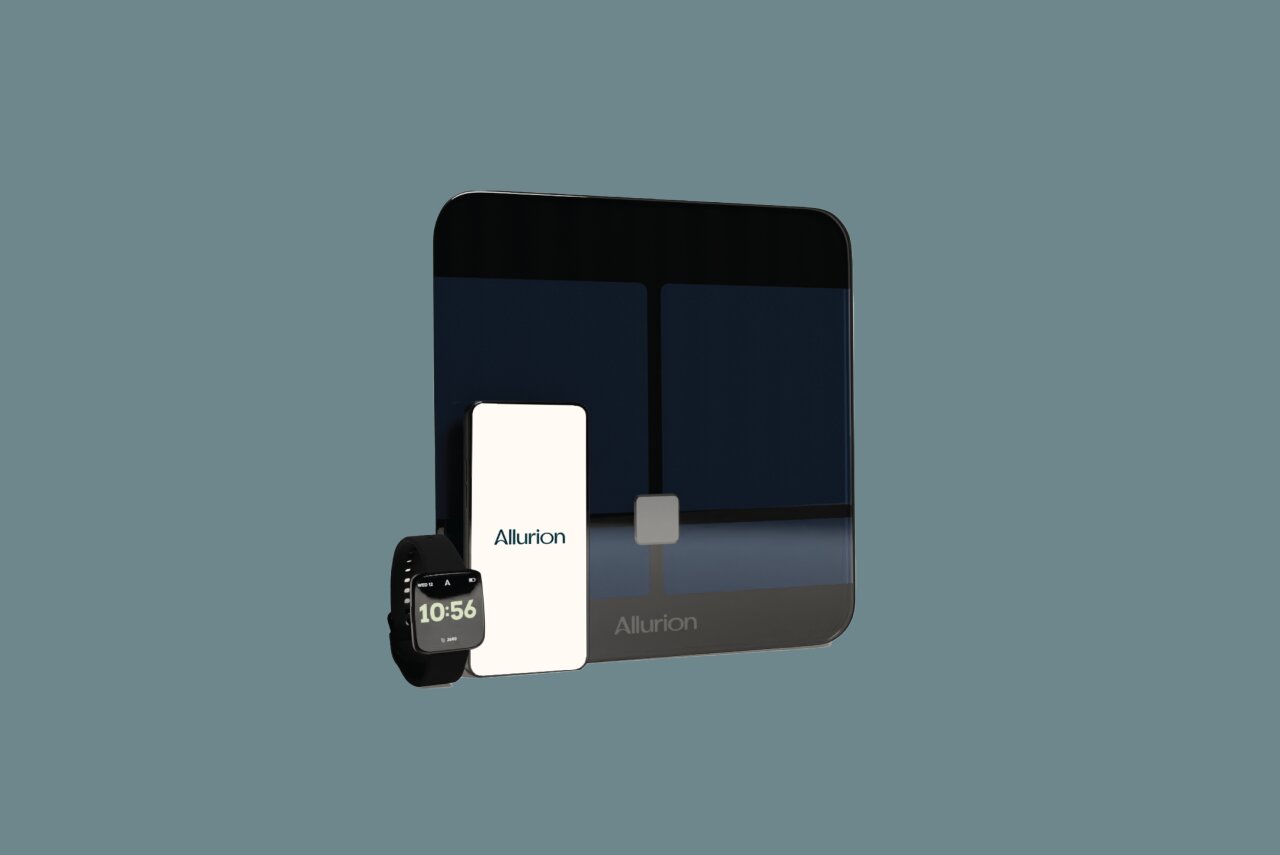 Allurion Presents New Data at the 2023 ASMBS Annual Meeting Demonstrating Mean Weight Reduction of Over 20%
Patients with severe obesity (Body Mass Index (BMI) ≥ 40) lost on average over 20% of their total body weight in 6 months
NATICK, Mass. – June 28, 2023 – Allurion, a company dedicated to ending obesity, today announced results from a 232-patient study investigating the Allurion Program. Patients with severe obesity (BMI ≥ 40) lost on average 20.5% of their total body weight and those in the BMI < 40 sub-group lost on average 17.7%. The results were presented during the 2023 American Society for Metabolic & Bariatric Surgery (ASMBS) Annual Meeting in Las Vegas.
"While the effectiveness data of the Allurion Program is already well-established for people living with overweight and moderate obesity, specific outcomes for those in higher BMI subgroups have not been well characterized," stated lead author Yannis Raftopoulos, M.D., Ph.D. and Director of the Weight Management Program at Holyoke Medical Center. "Results from this study demonstrated a mean weight reduction of 20.5% after 6 months in patients with a BMI of 40 or over —levels rarely attainable without surgery—and a mean reduction of 17.7% in the BMI <40 subgroup."
The study was conducted in 232 patients treated with the Allurion Program between 2016 and 2022. There were no serious adverse events reported.
Dr. Shantanu Gaur, Founder and CEO of Allurion, welcomed the new data.
"We believe this study underscores the potential versatility of the Allurion Program across a wide spectrum of BMI," he stated. "Only 1% of patients who qualify for bariatric surgery go on to get it, reflecting a significant unmet need for less invasive and safer interventions with similar efficacy.1 These results demonstrate that the Allurion Program can potentially serve as a solution for patients who qualify for bariatric surgery but prefer a less invasive option."
"Patients at higher BMIs often have co-morbidities that heighten their need for weight loss and long-term weight management," stated Benoit Chardon, Chief Commercial Officer at Allurion. "Given the low penetration of bariatric surgery in this population, a mean reduction in weight of 17 to 20% with the Allurion Program is a potential game-changer and may finally provide patients with an option that delivers significant weight loss safely."
1Ponce et al. Surg Obes Relat Dis. 2015;11:1199–1200.
****************
About the Study
Procedureless Gastric Balloon Experience: A Focused Comparative Analysis on BMI < vs. ≥ 40 Subgroups. Shruthi Rajkumar and Yannis Raftopoulos. Oral Abstract. Presented at the American Society for Metabolic & Bariatric Surgery (ASMBS) Annual Meeting, June 25-29, Las Vegas.
About Allurion
Allurion is dedicated to ending obesity. The Allurion Program is a weight-loss platform that combines the Allurion Gastric Balloon, the world's first and only swallowable, procedure-less gastric balloon for weight loss, the Allurion Virtual Care Suite, including the Allurion Mobile App for consumers, Allurion Insights for healthcare providers featuring the Iris AI Platform, and the Allurion Connected Scale and Health Tracker devices. The Allurion Virtual Care Suite is also available to providers separately from the Allurion Program to help customize, monitor and manage weight-loss therapy for patients regardless of their treatment plan: gastric balloon, surgical, medical or nutritional.  The Allurion Gastric Balloon is an investigational device in the United States.
For more information about Allurion and the Allurion Virtual Care Suite, please visit www.allurion.com.
Forward-Looking Statements
This press release may contain certain forward-looking statements within the meaning of the federal securities laws.  These forward-looking statements generally are identified by the words "believe," "project," "expect," "anticipate," "estimate," "intend," "strategy," "future," "opportunity," "plan," "may," "should," "will," "would," "will be," "will continue," "will likely result," and similar expressions and include statements regarding Allurion's expectations for the Allurion Program, its versatility and efficacy, and attractiveness as a preferred solution to other treatment options.  Forward-looking statements are predictions, projections and other statements about future events that are based on current expectations and assumptions and, as a result, are subject to risks and uncertainties.  Many factors could cause actual future events to differ materially from the forward-looking statements in this communication, including but not limited to (i) the ability of Allurion to obtain regulatory approval for and successfully commercialize the Allurion Program, (ii) the results of clinical data from its studies, (iii) the evolution of the markets in which Allurion competes, (iv) the ability of Allurion to defend its intellectual property and satisfy regulatory requirements, (v) the impact of the COVID-19 pandemic on Allurion's business, (vi) Allurion's expectations regarding its market opportunities and (vii) the risk of downturns and a changing regulatory landscape in the highly competitive industry in which Allurion operates.  The foregoing list of factors is not exhaustive.  Forward-looking statements speak only as of the date they are made.  Readers are cautioned not to put undue reliance on forward-looking statements, and Allurion assumes no obligation and does not intend to update or revise these forward-looking statements, whether as a result of new information, future events, or otherwise.  Allurion does not give any assurance that it will achieve its expectations.
Important Information About the Proposed Transaction and Where to Find It
Allurion Technologies, Inc. ("Allurion") has previously announced the proposed business combination with Compute Health Acquisition Corp. ("Compute Health"), and Allurion Technologies Holdings, Inc., a wholly-owned subsidiary of Allurion which will be the publicly-listed company following the consummation of the proposed transaction ("Pubco"). Pubco has filed a registration statement on Form S-4 (the "Registration Statement") with the Securities and Exchange Commission ("SEC"), which includes a document that serves as a proxy statement and prospectus of Compute Health and Pubco and a full description of the terms of the proposed transaction. The proxy statement/prospectus is being mailed to Compute Health's stockholders as of a record date established for voting at the Compute Health stockholders' meeting relating to the proposed transaction. Compute Health and Pubco may also file other documents regarding the proposed transaction with the SEC. This press release does not contain all of the information that should be considered concerning the proposed transaction and is not intended to form the basis of any investment decision or any other decision in respect of the proposed transaction. Compute Health's stockholders and other interested persons are advised to read the Registration Statement and proxy statement/prospectus and any amendments thereto and all other relevant documents filed or that will be filed in connection with the proposed transaction, as these materials will contain important information about Allurion, Compute Health and the proposed transaction. The Registration Statement and the proxy statement/prospectus and other documents that are filed with the SEC, once available, may be obtained without charge at the SEC's website at www.sec.gov, or by directing a written request to Compute Health, 1100 N Market Street 4th Floor, Wilmington, DE 19890.
NEITHER THE SEC NOR ANY STATE SECURITIES REGULATORY AGENCY HAS APPROVED OR DISAPPROVED THE TRANSACTIONS DESCRIBED IN THIS press release PASSED UPON THE MERITS OR FAIRNESS OF THE PROPOSED TRANSACTION OR ANY RELATED TRANSACTIONS OR PASSED UPON THE ADEQUACY OR ACCURACY OF THE DISCLOSURE IN THIS press release. ANY REPRESENTATION TO THE CONTRARY CONSTITUTES A CRIMINAL OFFENSE.
Participants in the Solicitation
Compute Health, Allurion, Pubco, certain stockholders of Compute Health, and certain of Compute Health's, Allurion's and Pubco's respective directors, executive officers and other members of management and employees may, under SEC rules, be deemed to be participants in the solicitation of proxies from the stockholders of Compute Health with respect to the proposed transaction. A list of the names of such persons and information regarding their interests in the proposed transaction is contained in the Registration Statement and proxy statement/prospectus. Stockholders, potential investors and other interested persons should read the Registration Statement and proxy statement/prospectus carefully before making any voting or investment decisions. Free copies of these documents may be obtained from the sources indicated above.
Non-solicitation
This press release and the information contained herein is not a proxy statement/prospectus or solicitation of a proxy, consent or authorization with respect to any securities or in respect of the potential business combination or any other matter and shall not constitute an offer to sell or a solicitation of an offer to buy the securities of Compute Health, Allurion, or Pubco, or a solicitation of any vote or approval, nor shall there be any sale of any such securities in any state or jurisdiction in which such offer, solicitation, or sale would be unlawful prior to registration or qualification under the securities laws of such state or jurisdiction. No offer of securities shall be made except by means of a prospectus meeting the requirements of Section 10 of the Securities Act of 1933, as amended, or an exemption therefrom.
###
Media Contact
Cedric Damour
PR Manager
+33784210220
cdamour@allurion.com 
Erik Milster
SeriesM PR
508.740.6125
emilster@seriesmpr.com
18 September, 23
Allurion Featured at the 2023 International Bariatric Club
Oxford University World Congress

Congress...
29 August, 23
Allurion Introduces Coach Iris: A 24/7 Generative AI-Powered Weight Loss Coach
Powered by GPT and Fine...
28 August, 23
Allurion Announces Acceptance of Nine Scientific Presentations at IFSO 2023 World Congress
New data...
01 August, 23
Allurion Debuts as a Publicly Traded Company on the NYSE
Allurion to commence trading on August 2, 2023 on...
25 July, 23
Allurion Announces New Additions to Board of Directors and Executive Leadership Team
Serial healthcare...
22 June, 23
Allurion Announces Collaboration Agreement with Medtronic to Expand Access to AI-Powered Weight Loss Program
...
30 May, 23
Allurion to Participate in the Jefferies Healthcare Conference
NATICK, Mass. -- May 30, 2023 – Allurion, a...
16 May, 23
First Multi-Center Study Combining the Allurion Program with GLP-1 Therapy Presented at the European Congress...
15 May, 23
Allurion Presents Findings from Landmark Study Evaluating Fully Remote Weight Loss Coaching Program
 
Prop...
12 April, 23
Allurion Announces Premium Tiers for the Virtual Care Suite and Launch of Proprietary "My Daily Action" Bundle...
05 April, 23
Allurion Announces Appointment of MIT Distinguished Professor for AI and Health and MacArthur "Genius" Fellow
...
01 March, 23
Allurion named "Champion Partner" of the World Obesity Federation and official sponsor of World Obesity Day...
09 February, 23
Allurion, a Global Leader in Weight Loss Technology, to Become Publicly Listed Through Business Combination...
15 December, 22
Allurion Technologies' training awarded World Obesity Federation SCOPE accreditation 
16 November, 22
Company reports 444% revenue growth from 2018 to 2021 and has also been named as one of MedTech Outlook's Top...
27 October, 22
The world's first and only procedureless gastric balloon receives approval from Brazilian Health...
19 October, 22
New Delhi, 06 Sep 2022:

Allurion, a company dedicated to ending obesity, has launched the Allurion...
19 October, 22
Company launches the Allurion Iris™ Artificial Intelligence Platform and introduces Success Predictor, a...
19 October, 22
Company announces approval of the Allurion Balloon in Canada, Mexico, Australia, and India where approximately...
04 October, 22
NATICK, Mass. - Allurion, a company dedicated to ending obesity, today announced results from eight key...